News From Around the Galaxy 11/21/19
This has been quite the week in regards to news surrounding Star Wars. With the critically successful Disney+ show, The Mandalorian, recently released. Episode IX being less than 30 days away. It's no surprise that the talk of the town would be about a Galaxy Far Far Away.
Kathy Kennedy
There is quite a bit to talk about in regards to Kathy Kennedy this week. She really dug herself into a hole with her surprising lack of vision and knowledge when it comes to Star Wars.
Kathy's Uncertainty
First let's talk about how she told Rolling Stone that she doesn't really have a plan for the future of Star Wars at this point.
Rolling Stone -  So you truly haven't yet decided what's next? 

Kathy Kennedy -  No. We've got various things we're looking at and various ways in which we can begin or not. As you can imagine. You know, do you go back? Do you go forward? All those questions are being asked. Do we stay in this galaxy? Do we go to another? The universe is never-ending. [Laughs.] The good news and the bad news. They have endless possibilities. It's liberating, it's exciting, and it creates a lot of pressure and anxiety as well. 
This should be a little concerning to fans. Lucasfilm has been in the hands of Disney and Kathy Kennedy for seven years now. While we have had four films, with fifth on the way, a plan for the future should be in place. Yeah Benioff and Weiss were originally lined up as is/was Rian Johnson. But even with those creators come and gone it's hard to believe that there is nothing else to look forward to.
Kathy's Lack of Knowledge
In the same interview with Rolling Stone Kathy is asked about how hard it is to "crack this nut" in regards to finishing off the current Trilogy of films.
Rolling Stone - Jurassic World director Colin Trevorrow was slated to write and direct Episode IX before you brought J.J. Abrams back in. Is this final entry in the trilogy a particularly hard nut to crack?

Kathy Kennedy -  Every one of these movies is a particularly hard nut to crack. There's no source material. We don't have comic books. We don't have 800-page novels. We don't have anything other than passionate storytellers who get together and talk about what the next iteration might be. We go through a really normal development process that everybody else does. You start by talking to filmmakers who you think exhibit the sensibilities that you're looking for. And I would argue that the list is very small — people who really do have the sensibilities about these kind of movies, and then the experience and the ability to handle how enormous a job these movies are. So we try to be as thoughtful as we possibly can about making those choices. I would also argue that sometimes people get involved in the normal development process, and then they realize, "Oh, my God, this is so much more than I ever imagined." So it's pretty common that when you're working on movies, you're not making choices and decisions that necessarily work out exactly the way you want from the get-go. It's been an evolving process with lots of people and lots of opinions, and then you try to shape something into what it eventually becomes. So I feel really fortunate that I've worked with so many great people that have been absolutely committed, J.J. being one of them. He's a huge fan, incredibly passionate about Star Wars, and has been from the moment he and I sat down and started talking about this. And the more he got involved, the more excited he became. So I think if you asked him today, he probably wishes he'd been in a situation where he could have done all three — but as I said, these are huge projects. So it's very difficult unless there's three or four years in between. It's not really physically possible. 
REALLY KATHY!?
This is something that should irk everyone. This line right here…

Every one of these movies is a particularly hard nut to crack. There's no source material. We don't have comic books. We don't have 800-page novels. We don't have anything other than passionate storytellers who get together and talk about what the next iteration might be…

So Kathy, you mean to tell us that there is no SOURCE material for Star Wars? That you don't have anything to go off of when it comes to coming up with ideas and creating stories????
I guess she has forgotten about all the Expanded Universe Books, Comics and Games that were thrown out by Lucasfilm when Disney purchased the company. It is a real shame. The EU may not be the most coherent and true continuation of Star Wars lore. But, there were some excellent stories and characters created in a handful of them.
Let's also not forget to mention that they had the best source for all things Star Wars. George Lucas.
Kathy on George Lucas
Recently Disney CEO, Bob Iger, wrote and released a book that talked a good bit about George Lucas and his involvement with Star Wars since Disney purchased Lucasfilm.
Iger explained, in detail, how upset George was with Disney not using the outlines and stories that he had handed over in the purchase. Something that led to a bit of a falling out between Lucas and Lucasfilm.
Kathy Kennedy was asked about this in the Rolling Stone interview.
Rolling Stone -  Thanks to Bob Iger's new book, we now know in some detail about George Lucas' dissatisfaction with The Force Awakens. What are your feelings about that? 

Kathy Kennedy -  Personally, I've had a relationship with George going back to all of us meeting before making Raiders of the Lost Ark. So this is a long, 35-plus years that I've known George, and I continue to be very, very good friends with George. And I think there's plenty of examples where people create something that is fundamental to who they are, where it's difficult letting go and watching that become something different. So I think initially, that was difficult for George — I don't think he anticipated how hard that would be. And J.J. came into it with such enthusiasm and, frankly, reverence for Star Wars and for George, and had to find what was personal for him. He had to make it his own. Every director who comes into a movie has to make something their own; they have to find themselves in the storytelling. And then that's going to become a different point of view. And I think that's all George was reacting to. 
Now, over the last few years we know George has been on the various sets for the films and TV show set in the Galaxy he created. But going back to the previous point. Lucasfilm should have utilized George more than they had. This would have helped with the current film slate as well as what Star Wars could be in the future.
Upcoming Announcement Contradicts Kathy…sorta
The Hollywood Reporter is reporting that a the next Star Wars film, after The Rise of Skywalker,will be announced in January of 2020. Along with it's Director. This contradicts, in a way, what Kathy told Rolling Stone. Or, is she moving ahead without any real plan?
There is a good bit more of information in that Rolling Stone article that I encourage everyone to read. My faith in Kathy has surely swayed a bit because of all this. It almost seems like she is trying to find a way out from the company and this was just a way of turning the public against her forcing her superior's hand. Maybe I am reading more into it, but something smells funny with the entire thing.
What is the Upcoming Announcement?
As stated above, THR is reporting in January Lucasfilm will be announcing the next Star Wars film. Most likely to release in 2022 taking the Benioff and Weiss film spot. Along with the film announcement a Director will also be attached.
It's unlikely the Rian Johnson film/s will be what is announced. Especially since his relationship and future with Lucasfilm is still in question.
Obviously this is all speculation but I have a really good feeling that the direction Lucasfilm will go will be due to the recent success they have had with their Disney+ series.
Jon Favreau
With how well The Mandalorian has been received it would be no surprise if he is the man behind the rumored upcoming Star Wars project. He loves the universe and he and Dave Filoni have created something that absolutely fits within the franchise. It would be a no-brainer to have Jon transition into the film side of things.
This isn't to say that The Mandalorian will jump to the big screen. But rather Favreau will either create a new story or help adapt an already established story for theatrical release.
It would not be surprising if this was connected to the Kevin Feige Star Wars project. Both Favreau and Feige have worked together in the past with Iron Man and Iron Man 2. This would be a perfect fit for these two to work together again but this time on a Star Wars film.
Favreau and company Getting a Larger Role
With that, THR is also reporting that Jon along with Dave Filoni and Michelle Rejwan, The Lucasfilm Senior Vice President may be taking on larger roles within Lucasfilm.
THR -  Creating a new mythology is, of course, the challenge that Disney faces with Star Wars. Kennedy is an experienced and competent producer, but she is not a creative visionary. (She made her name as a producer for creative visionary Steven Spielberg.) So who better than Favreau to play a leading role in charting the course? He has fan loyalty. He is as Team Disney as they come, having directed The Jungle Book and The Lion King. He worked with Kennedy on the all-important effort to launch Disney+. And having consulted on, executive produced and acted in Marvel movies, he is also close with Feige. 
This seems like a match made in heaven.
THR Continues
THR - So with or without Kennedy, sources say it seems likely that Favreau will have a lot of say over the future of Star Wars. These sources also say Kennedy's ideal team includes key roles for Michelle Rejwan, a producer on Episode IX and Lucasfilm's senior vp live action development and production, and Dave Filoni, the veteran animation director and George Lucas protege who directed live action for the first time with two episodes of Mandalorian. Even if remaining at Lucasfilm is not in the cards for Kennedy, this plan would enable her to trumpet that she has done the job she was hired to do — completing the Skywalker saga — and left the franchise in good hands. 
There isn't much to add to this as you all should be excited and anxious to see if this comes to fruition. Dave Filoni is essentially George Lucas' protege and Favreau is an excellent visionary. With those two working together the future of Star Wars has never seemed brighter.
Star Wars: The Rise of Skywalker
With less than 30 days to the release of Episode IX the marketing push has amped up yet again. A new TV spot and Entertainment Weekly special have all released.
The TV spot gives us some new looks of the movie and could even elude to some of the rumors of a battle through space & time were true…. Maybe.
I found an excellent video explaining this rumor/theory by The AT-AT Chat. But be warned. Potential spoilers within the video.
We also have a handful of new images courtesy of Entertainment Weekly.
EW also will have three special covers for their upcoming Issue representing the Prequel Era, Original Era and the Sequel Era of Star Wars films.
One of the articles in the issue is a sit down with cast and crew of the film in which they all give a little more information on what Episode IX will show us this December. For more on that check out the article and listen to our Shootin' the Sith podcast from this week.
International Poster & Could the International Trailer Release Soon?
Below you will see an International Poster and Banner for Star Wars The Rise of Skywalker. Both are pretty good looking. We will say that it is curious that the poster shows both Kylo Ren and Ben Solo, could this hint to his redemption?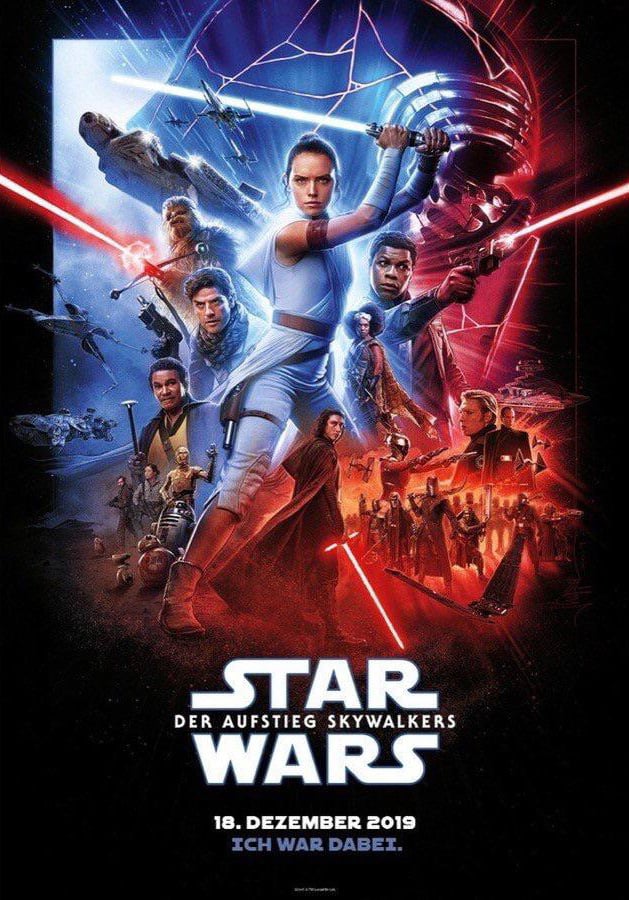 With these releasing there is probably a good chance that an international trailer will release soon. Following similar marketing as The Force Awakens and The Last Jedi. So make sure to follow us on Facebook and Twitter to not miss when the trailer drops.
Dolby Cinema
Also released is a Dolby Cinema Poster for the film.
Are you excited yet? This week has been full of Star Wars news and goodness. Could Favreau be the man to right this ship and bring all the fans together? Will Episode IX be a strong end to the Skywalker saga?
So many questions, but a lot to look forward to.
May the Force Be With You